Shareholders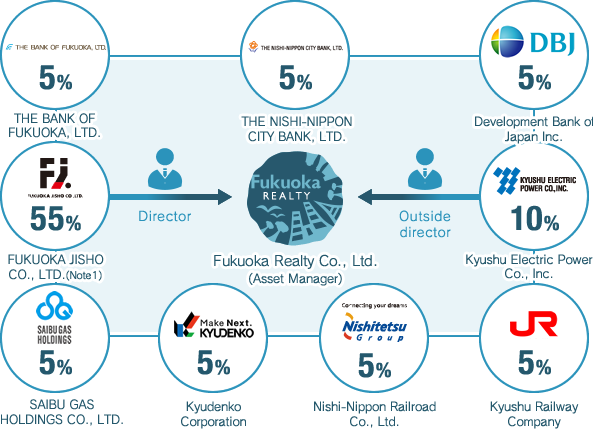 Fukuoka REIT Corporation enjoys the robust support of Fukuoka Jisho, Kyushu Electric Power Co., Inc. and other leaders of the Kyushu business world as sponsors.
The combination of the largest developer in Kyushu and local business leaders has created a regionally preeminent team that provides proactive, resolute support to Fukuoka REIT Corporation through Fukuoka Realty Co., Ltd., the asset manager.
Fukuoka Realty is positioned to conduct stable administration and operation, leasing and development of properties based on the networks with the sponsors who have full knowledge of the region. In addition to the properties owned or developed by sponsor companies, which ensure acquisition opportunities in a stable and continuous manner, Fukuoka Realty will pursue opportunities to acquire excellent properties by taking advantage of the networks (such as business partners) of sponsor companies.
Pipeline support agreements
Fukuoka Jisho Co., Ltd. has concluded a Memorandum of Understanding (MOU) with Fukuoka REIT and Fukuoka Realty concerning pipeline support for new properties. Based on the agreements, the companies offering pipeline support provide information, offer sales of properties and other services to Fukuoka REIT.
(Note) Percentages represent the shareholding ratios in Fukuoka Realty.
(Note 1) Concluded Memorandum of Understanding with Fukuoka REIT Corporation and Fukuoka Realty Co., Ltd. concerning pipeline support